ST. LOUIS HOME THEATERS, SAINT LOUIS CUSTOM HOME ENTERTAINMENT SYSTEMS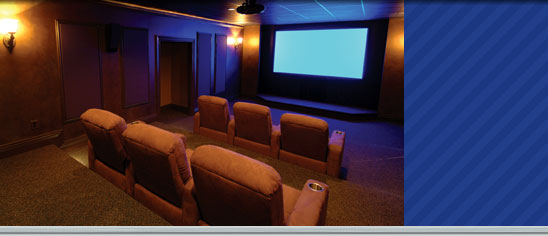 Home Entertainment by Arden Technologies
ST. LOUIS HOME THEATERS & SAINT LOUIS CUSTOM HOME ENTERTAINMENT SYSTEMS
Arden Technologies will design, wire and set up your home entertainment system.  Our experienced staff will meet with home owners and builders to assess customer desires, provide advice, and develop a budget that will meet the customer's home entertainment needs.  Our distributor relationship with various product manufacturers and wholesalers enables us to pass on considerable savings to the end user.
We specialize in developing customized home entertainment solutions.  From the procurement, installation, and integration of high end plasma screen televisions and whole house audio systems to wiring for 5:1, 6:1, or 7:1 surround sound systems we stand ready to meet your home entertainment requirements.  We offer a range of products to include plasma screen televisions, surround sound receivers, speakers, DVD players, and CD players.  Among our home entertainment product brands are JVC, Pioneer, Denon, Harmon Kardon, JBL, Boston Acoustic, and Proficient audio.
The most important part of the home entertainment system is the home owner or end user.  Our staff is committed to familiarizing and coaching home owners on the operation of the various components of their home entertainment system.